If you see any homeless person in need on the road or anywhere outside in Durham Region kindly direct them to one of our Service Hubs listing on this website under the system navigation menu.
You can also connect them to Chalmers
They can also be connected with PCOP: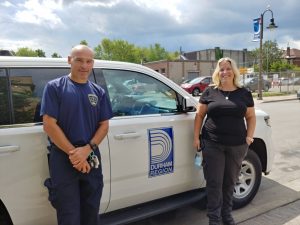 The PCOP team provides primary care and social work services, to the unsheltered in Oshawa, Whitby, and Ajax's priority neighbourhoods but also covering other areas in the Durham Region, as needed. PCOP contact info: 
Social Work Services
Engagement, assessment, triage, coordinate referrals and follow up

The most important piece of their engagement is to start where they are. We identify the immediate need so no matter where they are is where we start

Crisis, addictions, mental health, trauma-informed counseling, general counseling, and assessing if there is a human trafficking concern.

Service navigation such as medical, addiction/misuse, mental health, physical health, housing/housing supports, and food security.

Walking with the individual to the service and supporting them when they engage in the supports. Often their experience with the system has been unsuccessful, and they have left without help and are extremely resistant to reengage.
Paramedic Services:
Blood glucose tests as needed

Medical counseling as needed

Engagement, assessment, and medical triage

Referrals for medical care/service navigation

Virtual connection to Doctor and/or Nurse Practitioner

Referrals to health care supports

Emergency care (ie. Intravenous treatment)

Wound care

COVID-19 swab testing

Flu vaccines and COVID-19 vaccines (once they become available) for folks who want them.